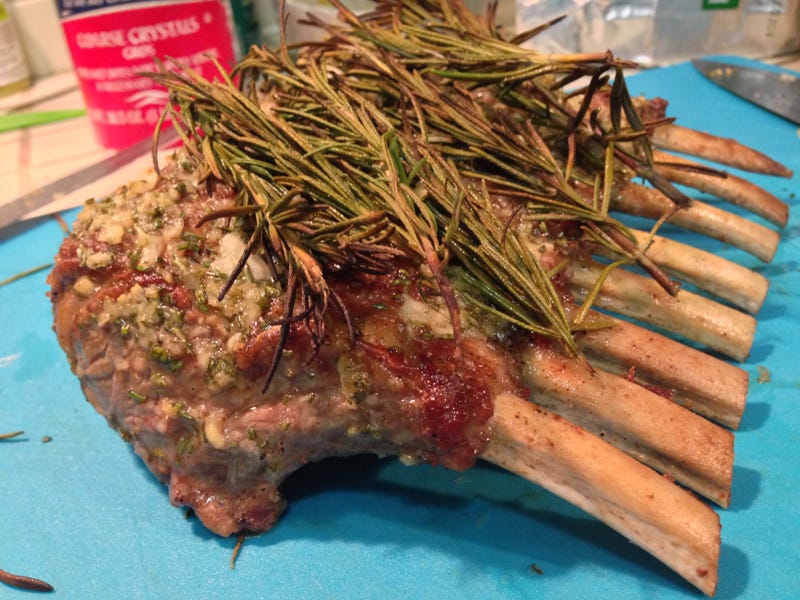 Who knew a rack of lamb could be so easy or quick? It's paleo too. Use grass-fed lamb and butter for tastiness and bonus paleo points.
Garlic Rosemary Butter
4T butter, room temperature
5 cloves garlic
1-2T fresh minced rosemary
Rack of Lamb
1lb rack of lamb, frenched
3-4T coarse sea salt
fresh ground black pepper
2T butter
2T olive oil
6 sprigs fresh rosemary
1c wine
Cover rack of lamb with seasalt and pepper, let sit for at least 15 minutes. Prepare Garlic Rosemary Butter while rack sits. Preheat oven to 425°F.
Heat butter and olive oil over medium heat until completely melted and butter has stopped bubbling. Bring pan up to high heat until the oil has a low viscosity, reducing heat if oil starts to smoke. Sear rack of lamb with the fat down until golden brown (3-5 mins). Spoon oil over top of rack to brown the rest of the exposed meat. Don't worry about the interior of the rack, it's just bone anyways.
Spread a thick layer of garlic rosemary butter on top of rack and top with rosemary springs. Roast in oven for 15-25 minutes until cooked as desired. ~15 mins for rare, 25 mins for well done.
While rack roasts, reheat pan until oil has low viscosity, adding any remaining Garlic Rosemary butter. Deglaze pan with wine. Reduce heat to medium low and reduce by half.
Let rest for 1/3 - 1/2 roasting time to let juices set.
Slice rack along ribs in pairs, top with sauce from pan. Serve with mint jelly.
Pan-Seared Chop Variation:
Roast until rare (15 mins) and do not deglaze pan with wine. Let rest for 5 minutes. Slice into pairs and pan sear with remaining oil, adding the rest of the rosemary garlic butter and olive oil as needed. Deglaze pan with wine after all chops have been seared and reduce by half over medium low heat.